February 15, 1999 Birmingham, AL

This was Jerry Lawler's territory so the audience was in support of their king. Anyways, I look to signs:

A longer way to run?? SO, a needle pulling threeeead.. LA, a note to follow SOOOO, TEA, a drink with jam and breeeeead! Jam and bread, my how English. I'm sure EVERYONE has grown up with The Sound of Music and the horrors of Julie Andrews who I believe is the Anti-Christ.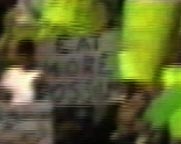 I don't think I've ever tried it and I have eaten some pretty odd things in my lifetime. But my mother would be considered the most experienced in eating odd things. Once she tried to chew on those toys that sticks to the wall and slowly creeps downward. Hey, the toy was yellow in color and she likes lemon flavored things.
As the camera scans the audience, I think I saw Joe Pesci but I'm not positively sure. I guess he was there to amuse us, like a fucking clown (GoodFellas was a mighty good movie).
Shawn Michaels enters the arena. Since many WWF stars have had a change of theme music, perhaps it's time for Shawn to get something more 90's and not so Night-Ranger-meets-Van-Halen. We know he's held on long and hard to the wrestling genre but change is sometimes... a good thing. Shawn has ponytail hair, by the way. We reckon he dilly-dallies backstage with his hair tied back and then lets it loose when he's being filmed because messy hair may be considered sexy hair. Perhaps he can change his theme from Sexy Booooy to Sexy haaaair.

Remember, proper spacing is important. What is HEIS back?? Sounds like a condition.. like hunch back or lumpy pimply back.
Shawn introduces Austin to the arena. Hello Steve. We know you, you're that BMF guy. We see someone in the audience holding up an inflatable Austin punching weeble wobble doll. We imagine that this dude brought inflatable Austin to the arena deflated and blew him in the bathroom. Yes, I know that was an obscene statement but ease up. Life is too short to worry about innuendos and to get riled up over silly yet intelligent people like myself.
Mankind then enters and Vinnie is soon to follow. Vinnie sports a neckbrace (the tag was out though) and a bandage and he says he wants to bury the hatchet. In who? Stevie, I wouldn't trust him with THAT statement.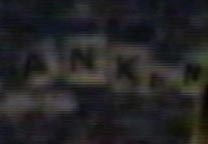 New vocabulary word I think. It's a verb which is something in between a spankin' and a yankin'.
Vinnie tries to set a match between Mankind and Rock. Cue the Rock in who sports a nice blue velvet shirt. What with Rock's sweating problem, we hope he Scotchguarded that shirt. As the audience starts chanting Rocky Sucks, Rock does that 'pause-to-sniff-the-air' move. While he's having his fresh pine dew moment, I think that someone should hawk a loogie at him and hit him smack on the side of the neck just to snap him out of it.
Mick says, 'These testicles are full of fortitude..' and I'm sure they're full of other things as well. This segment is kind of a conversation based on catch phrases. If they start getting mixed up, it would be a mess.
'Smell your Role cause I said so!'
'Oh yeah? Well I'm the toughest jabroni with testicles!'
'Have a nice sexy boy!'
'I'll meet you in Smack Bottom Line Hotel and I'm cookin'!'
Shawn plays along as he tells Rock, '.. about knowing my role, I had roles you'll never have..' You mean that little bit part in Baywatch?? I wouldn't crow about that. Meryl Streep you ain't. Anyways, Mankind and Rock are going to have a ladder match.
Vinnie tells Austin, 'You know you're going to Wrestlemania.' Austin looked at him like, 'I am?? Cool.. bring the keggers!' Vinnie says Paul Wight, the big Giant boo-boo of God will be the special ref. That cues Giant Forehead to walk out to the ramp. As I said, I'm very good with lipreading and I swear Austin may have said, 'Look at that ugly head on that big motherfucker.' I'm positively, certainly, adamently not sure about that.
Wight is 500 pounds, they say, which is a few pounds lighter than he was in WCW. That could only mean that he took a colossal dump in the morning. Personally speaking, that can make me feel like I can leap tall buildings in a single bound.
Jarrett and McMichael vs. D'lo and Ivory in a mixed tag match. For Jarrett, it's more like a handicap match. Debra is sporting a velvet pink bra and brief combo which really brings out the orange of her skin. Also the fact that she's got on white platform go-go boots shows that she's not even going to break a nail, let alone WRESTLE. Debra shows her flair in the squared circle by falling backwards off the ring platform after Jarrett bounced on the rope. 'Hyuk.. Jaeff, I faell! OH! I have to wrassle!' Damn girl can't even stay on her feet. Go home and rub some saddle soap on your legs. OH!
Ivory and Debra eventually end up in a catfight. Yo Ivory, stop making Debra look as if she can wrestle. Debra eventually hits Ivory with the paper guitar and my, that.. sure... hurt. We eventually get a closer look at Debra's boney little arms. Damn, I can pick my teeth with those arms.
Backstage, the Corporation are celebrating the induction of their new member: Testes' new left nut! (Oh man, he's got 3 now?? That's the last thing we need... B.C.) No, sorry, it's obviously Big Giant Fathead. They all shake his hand or hug him. But Kane stands in the background probably thinking, 'I'm not shaking that oversized freak's hand. If I wanted to see a head that big, I'd go to Mount Rushmore.'

What happened. You guys couldn't afford any more markers??
And probably the funniest sign of the evening: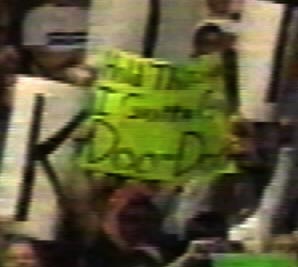 In the wake of a gastrointestinal rumble, it IS important to find a way to keep your sign up in case the camera spots it. How crafty, how witty.